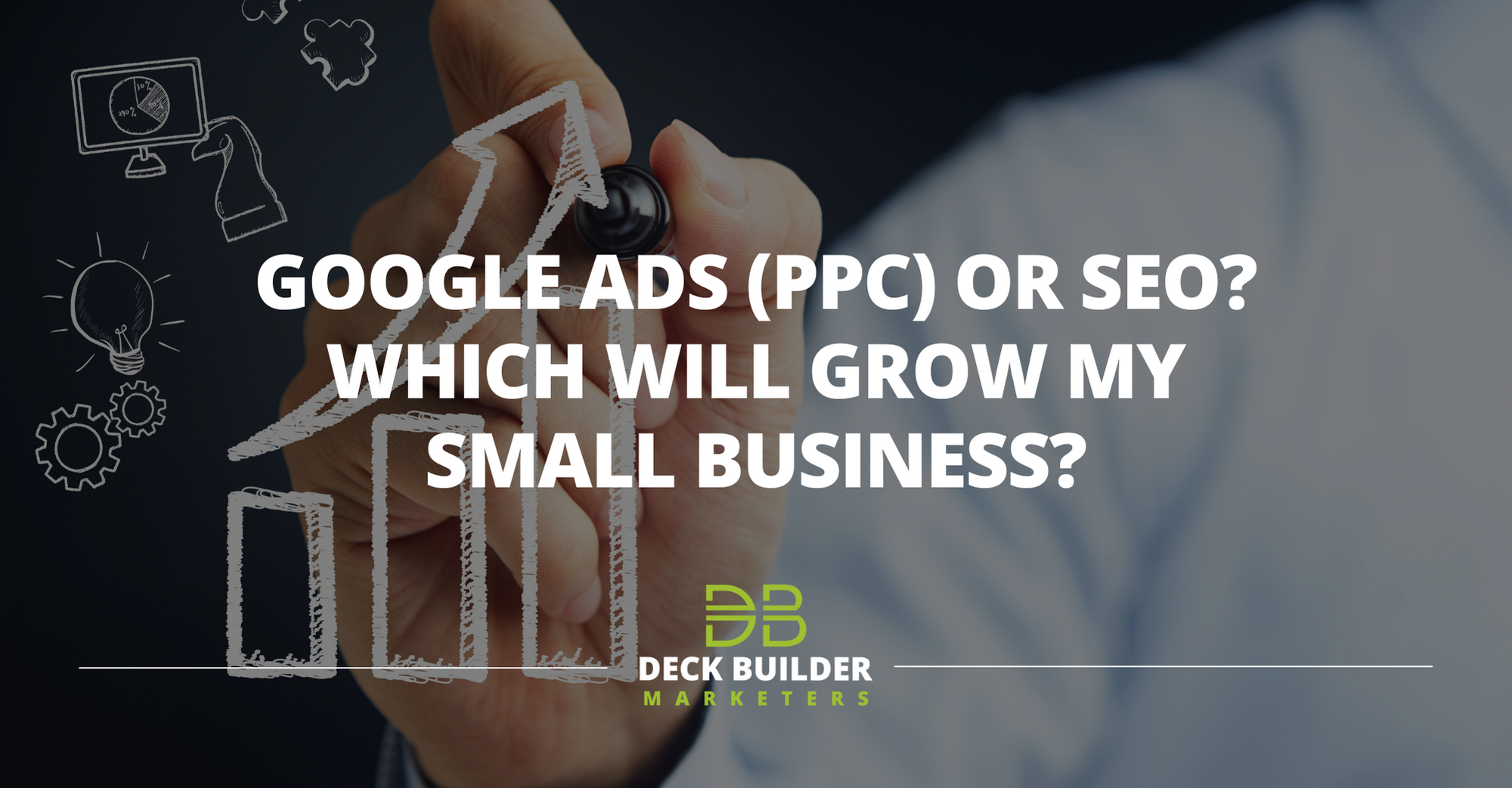 Google Ads (PPC) or SEO? Which will grow my small business?
Deck contractors who want to promote their business online face what some consider to be a difficult decision: Google Ads (PPC/paid search) or SEO (organic/free search)? Which strategy will grow your business and offer a better return on investment?
Is it really an either/or decision when it comes to search engine marketing (paid search) or search engine optimization (free search)? Who wants to invest in marketing practices that are inadequate and can damage your bottom line?
You're here because you have a desire to to grow your deck building business. So, we will dig into Google Ads (PPC) and SEO to give you a better understanding, and we'll show you how they stack up. I know you would like a definitive answer to which one is best for your business, but I have to tell you, "It depends."
The goal here is to find out where you should invest your marketing dollars so you can achieve some clear, tangible and substantial results.
Which should you use? Google Ads, SEO, or both?
Ready to dive in?
What is PPC?
PPC means pay-per-click. It's an advertising model in which advertisers bid or pay for clicks from users. For example, when users type in a specific keyword in search engines like Google, businesses can pay to display their pages and get clicks to them through PPC advertising. This is SEM: search engine marketing, or paid search.
If you do a search for "deck builders near me," depending upon your location, you might see the top search results display in bold letters "Ad." This means, you are seeing those results because someone has a PPC campaign running. It is a paid search marketing model that's all about paying to appear in these listings.
Or bidding, to be specific.
When marketers talk about PPC, we're mainly referring to Google Ads, a tool that lets you create paid search ads in the world's most popular search engine. This is where the magic happens.
Let me break down the PPC marketing model so it is easier to understand:
Companies will bid to have their pages appear when users enter specific keywords (also known as search queries), and these companies pay a fee each whenever someone clicks on the ad/page link.
PPC is an effective form of online advertising. Why is this? Because Google is used by about 90 percent of people searching for solutions to their problems or answers to their questions.
If you want to see if your competitors are taking advantage of PPC campaigns, just do a search for "deck builders near me" and see if any ads appear at the top of the search results.
What is SEO?
SEO (Search Engine Optimization) is the practice of optimizing your site and pages to show up in the search engines when someone types in a specific keyword. It is sometimes referred to as organic search or free search because a company is not paying to appear in the SERPs (search engine results pages).
The goal of SEO is straightforward: Rank higher in search engines. You do this by crafting content that is based on what users want to find out. In other words, do you have the right content that will answer their questions or help them solve their problems?
SEO, when done properly, signals to Google's search engine bots that your pages provide relevant, useful information for Google's users. When Google thinks this, your pages will rank higher based on keywords you have targeted in your content. Finding the right keywords is both an art and a science.
As noted above, paid search results appear first, followed by the organic search results. Unlike paid search, organic search web page rankings (or "SEO rankings") are based on quality, value, and other factors – but not on money.
Google closely evaluates your pages based on many factors and metrics – including click-through-rates, bounce rates, time on page, page load speed, you name it! (And these factors get tweaked every single day. Recently, Google made more than 1,500 changes to its search algorithm in one year.)
PPC is all about paying for placement, but SEO is all about providing valuable content and optimizing your pages to convince Google's algorithm to rank them for free.
When all of your SEO efforts align (page load speed, keywords, relevant content, headers, meta descriptions, etc.), Google will rank your pages higher. Why this is important is because pages that rank higher have the higher click-through-rates. The goal of SEO and SEM is getting people to click through and land on your website.
What results are you getting from your SEO efforts? If you do a search for "deck builders near me," does your website appear on the first page?
Putting SEO into perspective
Did you know that the first three organic results get about 75% of all traffic?
This means that if you're not on top when people search, it's difficult to get noticed in today's crowded online world — not impossible, but difficult.
Smart SEO marketing will give you the best chance to rank higher, and it takes into consideration your website's performance, technical aspects of creating web content, how you structure your blog posts, how you write your blog content, which keywords you target, and several other factors involving things like ALT tags, canonicalization, sitemaps, and robots.txt — things many business owners have never heard about.
PPC: Is it worth it?
You might ask whether paid search is worth because you have to pay for each and every visitor?
What if the PPC campaign doesn't generate enough traffic or returns? What if it results in a waste of time and money?
PPC is not for every company, and it has its challenges. However, for the right kinds of companies and at the right times, it can be extremely beneficial.
PPC is the real deal.
You've seen the ads when you search, so you have seen for yourself how businesses and industries believe in the value PPC offers to close more sales and land more clients. Don't make the mistake of thinking PPC is for the big players only! Small businesses like yours — and maybe some of your competitors — have been able to benefit from strategic PPC campaigns.
There's no need to debate whether PPC works, rather is PPC a viable strategy to get customers for your deck building company?
Benefits of PPC: Are Google Ads right for my small business?
PPC provides many businesses with solid returns. Whether your deck building business, specifically, should dive into paid search campaigns can only be determined after you analyze a number of factors, such as your strategy, customers, and resources.
PPC has a lot to offer businesses, which is why it needs to be part of any discussion about creating a solid marketing plan.
The is one primary benefit Google Ads offers that SEO cannot:
Quick results
SEO takes time. We've seen pages rank in less than two weeks, but others have taken months. So, what can you do while your SEO efforts build steam?
PPC has the potential to generate customers for your business in a matter of days or even hours. It's like flipping on a light switch when you enter a room.
When you have created an effective PPC strategy and have properly optimized your Google search ads, you have the potential to start driving traffic to your pages almost immediately. It might sound too good to be true, but it's not too far off.
Realistically, it takes at least a couple of months to tweak and optimize your ads to provide a greater return than what the traffic costs. It probably won't happen in a few days (though it can), but you can get there fairly quickly.
Google search ads need to run for a period of time before working well because they need to be optimized very intelligently. Unfortunately, it's not as simple as setting them up to make profits.
You'll need to gather data and optimize your ads continually, like on a daily basis. This means you will have to fix issues, improve your ad copy, test different ads, tweak your keywords, and other revisions. This takes time, and it could be a couple months.
It can be difficult for even the best SEO consultants to reach the same results during the same timeframe. SEO requires building authority, and improving organic web page rankings takes time.
Although it has a better ROI over time, SEO is a long-term strategy. PPC comes out on top when you are looking for short-term results.
Paid ads on Google are placed at the top of the page
PPC links are the first results users see when they search for targeted queries. They appear before the organic results, and if you have a PPC campaign running for the search term, you will appear at the top of the page.
Google constantly changes the appearance of how ads are displayed. For many users, they might not realize the top listings are actually ads.
Target potential customers with laser focus
Another benefit of PPC is the ability to focus like a laser on your target audience. If you want to appear on the top of Google's first page for a specific query or keyword related to your deck building business, then put in a bid. With PPC, there aren't any limits. You decide which keywords and queries you want to bid on, and you have some control as it relates to the appearance and content of your listings.
But, PPC campaigns only run as long as you bid … and pay. Yes, there is a continual cost, but because your ads can be so laser-focused, it can be an effective avenue to generate solid leads that makes the investment a good one.
Because you only target the keywords your ideal customers search for, you're basically paying a few bucks or cents for highly convertible leads.
While we are talking about ideal customers, let me remind you it is important to the success of your deck building company to identify who your ideal customers are. Having a clear understanding who is looking for your products and services will benefit your PPC efforts (SEO, too).
The best way to do that is by creating a buyer persona. If you do not understand what a buyer persona (or avatar) is, please make sure to ask about it when you schedule your free marketing audit and strategy session with us.
Ready to dig into SEO and see how it stacks up?
SEO: How effective is it?
SEO is one of the most popular topics among marketers for a number of very good reasons. It is an effective, long-term strategy to drive traffic to your website. It can take some time (usually in about six months or less), but the return on investment makes it a popular choice when business owners decide on a marketing plan.
We live in a culture where we want instant results and instant gratification. So, why is SEO popular if it can take up to six months to start seeing tangible results?
You know from your own business, a quality deck takes time to construct, but the end result is a thing of beauty. SEO is similar. Yes, it takes a while, but you are building a foundation that will pay dividends for years to come.
SEO involves improving how your website functions; creating a pleasing user experience; providing useful, valuable and relevant information to site visitors; and signaling to Google your content has what it takes to answer the questions users have about decks, pergolas, lighting and other related topics.
All of these SEO activities combine to help your pages rank higher in organic/free search. (The irony is free search is not free; SEO requires an investment, too.)
Master SEO, and the rewards will be amazing:
Increased traffic without the cost-per-click fees.
More leads entering your sales funnel.
No cost per click
With SEO, you can forget about the cost-per-click fees associated with driving traffic to your website.
With organic search, businesses shape their search results by focusing on specific pieces of content/articles based on keywords their customers enter into Google and other search engines. While this will cost money (whether you hire an agency like ours or assign it to someone in your company), you are not paying each and every time a lead clicks on your link.
If you have the ability to create your own content for the right search terms, then your creativity, time, and effort can be used to compete against companies with larger marketing budgets.
This is great news for you: Smaller-scale businesses get a better opportunity at competing with larger brands, especially when money is not the sole web-ranking factor.
As already mentioned, SEO is not without its costs. But driving traffic to your website doesn't stop after you stop paying.
SEO also leads to higher conversion rates and better results over time.
And, unlike PPC, it is not a purely budget-based system: The results continue after the investment ends (at least for a while, because your competitors are always trying to figure out how to rank higher than you).
Anyway:
Credibility and clicks
Because Google rewards sites that demonstrate expertise, authoritativeness, and trustworthiness, it's easy to see why people tend to put more trust in organic search results (which is why they are consistently more valuable). Local businesses with a location or defined service area can benefit from this positioning, as local SEO increases their awareness and credibility to customers nearby.
Greater ROI
SEO is more cost-effective than PPC, and generally produces a greater return on investment. This is why SEO is a popular marketing activity for businesses of all sizes and budgets. It's a no-brainer.
However, if you have not invested previously in SEO, it might be wise to look into PPC campaigns to bring in leads and customers in the short-term while your SEO efforts work their magic.
The million-dollar question: paid vs organic marketing?
With PPC, you can immediately appear on Google's first page. You just have to bid on the right keywords, and you can potentially see quick results. If you have the resources or wherewithal to create great content and can wait, organic marketing via SEO can be more cost-effective and provide results that get better over time.
A better ROI is a very good reason to prioritize SEO over Google Ads.
But, if your decking company cannot wait, then look to PPC to help fill in the gaps.
This is sort of oversimplified, but still valid: What would you rather sacrifice more, time or money?
Do SEO and PPC work together?
Digital marketing is a multi-channel landscape; you cannot achieve all you can by focusing on a single channel. SEO and PPC support each other in a number of ways. Together, they let you gather more data to make better decisions, increase your overall presence, and create more opportunities to remarket to previous visitors.
SEO and PPC make for a powerful combination and perform better than either one alone. When the circumstances and resources allow for it, utilize both strategies in tandem.
Feed your SEO with data from Google Ads campaigns
PPC lets you test descriptions, titles, keywords, and other aspects of your ads more quickly than SEO does. This is because your ads rank high quickly, and you have the ability to test multiple ads. Also, Google Ads delivers insights and metrics of how each ad version performs. This can help drive decisions for your SEO efforts.
Let me give you an example: You can test different page headings on your PPC ad campaigns, then you can select the one that rises to the top in terms of performance for your SEO content.
If you work with a marketing agency, be sure to ask them how your PPC data can improve your organic search engine rankings. Some of the other ways it helps is through testing landing pages, discovering effective SEO keywords, optimizing page headings, and influencing SEO copywriting.
Establish a multi-channel presence
PPC and SEO also support each other by increasing your brand's overall visibility and availability. Leads go through multiple touchpoints and channels before converting to customers.
Brands available in multiple channels have higher conversion rates, improved customer retention, and better results overall.
Tired of all this technical jargon?
Understanding all of this technical jargon as the owner of a deck contracting company can be overwhelming. If you are like most business owners, you would rather be following your passion and not worrying about how much you want to bid on keywords to benefit your deck building company.
We know all this marketing stuff takes a lot to learn and implement, so we formed Deck Builder Marketers with one goal in mind: Help deck contractors succeed with the marketing side of their business.
Do you need help with PPC and SEO? Schedule a complimentary, Custom Marketing Plan to learn how we prioritize our work to shoot for early victories so we can generate high quality leads faster. Deck Builder Marketers is one of the top PPC companies in California!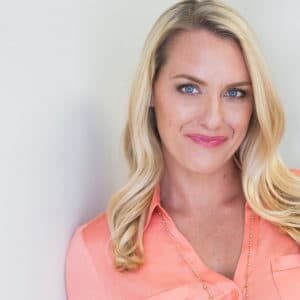 April Edwards
Owner & Lead Marketing Strategist
About the author: