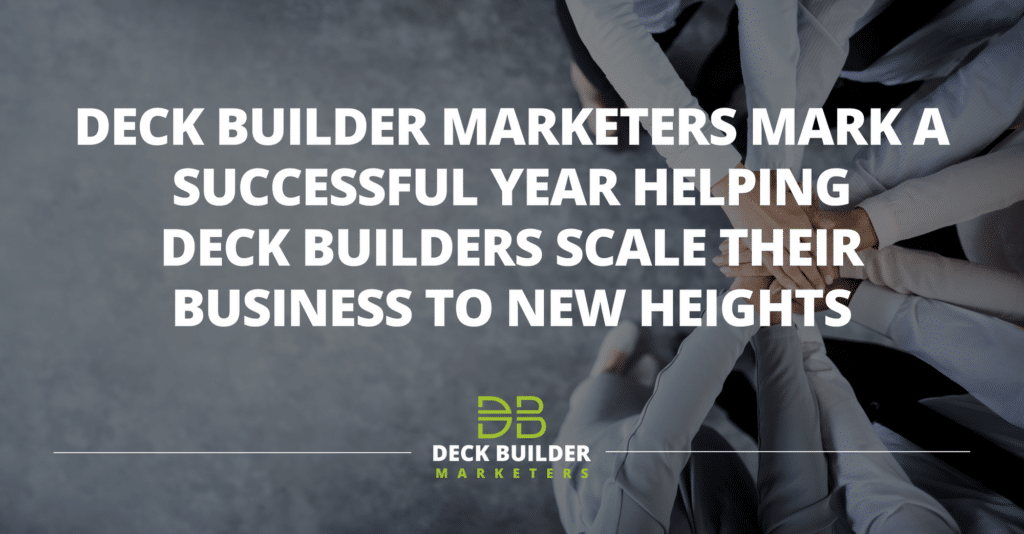 Deck Builder Marketers Mark a Successful Year Helping Deck Builders Scale Their Business To New Heights
The digital world has made it possible for deck builders to reach out and interact with their community in ways that were never before imaginable.
It is extremely crucial for any business, whether it be a large franchise or a local construction business, to have a strong digital presence to highlight their services and reach out to new clients.
The same holds true for deck-building companies. In order to connect with the right potential customers and to speed up the sales process, deck builders need to have digital resources to attract people and educate their communities about their services, process, and differentiators.
And it's even more important now. The demand for deck-building services increased during the pandemic because people were confined to their homes and sought different ways to enhance them.
It's clear that digital marketing has become crucial for deck builders that want to excel in the industry and grow their business. However, this is easier said than done, as most business owners in the industry live a busy life and have no time to waste.
This is exactly what makes partnering up with a dedicated digital marketing agency so essential. The right partner can free up valuable time and help elevate a company's business by ensuring that their services reach relevant leads that are ready to make a purchase decision.
Deck Builder Marketers is a digital marketing agency that specializes in the deck building industry. The company recently celebrated its first anniversary as an online marketing agency for deck builders and home improvement companies across the United States & Canada.
Deck Builder Marketers was started by April Edwards, a marketing expert who became fed up with the lack of quality leads in the industry. She designed an exclusive system to help overcome common challenges faced by business owners looking to excel and grow more smoothly.
AE Design Co., the parent company of Deck Builder Marketers, was founded in 2012. It operates in a number of industries and has delivered its digital solutions to many clients across the US.
April Edwards, founder of AE Design Co. & Deck Builder Marketers, decided to niche down to the deck industry after developing a marketing system for one deck builder client under the AE Design Co. that helped double their business.
In her words,
"We found gold working with one of our deck builder clients in Ohio, Woodland Deck Company. Over the course of a couple of years, we were able to develop a proprietary system to help local-based businesses generate more leads quicker. And not just an abundance of leads, but quality leads."
Before Woodland Deck Company partnered up with AE Design Co., they were struggling to get traffic and generate leads on their newly-launched website.
April's team took over and increased their website traffic by 788% and leads by nearly 413%. The team used a combination of contractor lead generation, coupled with game-changing contractor SEO to generate these genuinely spectacular results.
To increase brand trust, AE Design Co. integrated a review system into Woodland's website, so that they could proactively generate positive client reviews and cultivate an excellent reputation in the area.
An offshoot of the AE Design Co., Deck Builder Marketers channels the expertise and the extensive knowledge of its parent company and molds its tried-and-tested strategies to meet the specific requirements of the deck building industry. Their solutions are designed to help bridge the gap between local deck builders and their prospective clients.
Coming from a family of construction workers, April has seen the different struggles that contractors can face:
"My family comes from a whole line of construction workers. I grew up seeing them struggle to keep a consistent stream of business in the door and just work their tails off in order to, you know, make ends meet."
Realizing just how crucial it was for these deck-building companies to generate continuous business, and after her positive experience with the industry, she set up Deck Builder Marketers to help deck builders boost their outreach and sales efficiency.
The company recognizes that most local deck-building companies are too busy creating the beautiful work they do for their clients to properly market and advertise their services.
According to April, this can be a mistake in the long run as ignoring marketing or doing a half-hearted job of advertising their services can cost deck-building companies a fortune in terms of future job opportunities and projects.
It can also leave them far behind other competitors who may be marketing themselves online, both effectively and aggressively.
After identifying how she could bring value to the deck-building industry and armed with over 15 years of experience in the online marketing space, April soon launched Deck Builder Marketers in January 2021.
The company soon got off to a flying start, onboarding its first client, Artisan Outdoor Craftsman, soon after.
To secure their clients' dominance, the company has a policy of partnering with only one deck builder per region. This allows them to build a stronger relationship with each client, while reassuring them that the same proven marketing system will not be available to their local competitors.
Deck Builder Marketers offers its clients a wide range of digital marketing services, including everything from building them a world-class website and local SEO services to Social Media, Google Ads, Email Campaigns, Sales Automation, and more.
The process starts with a free marketing evaluation. This customized plan tells new clients how they are doing, what they can improve on, and the strategy to beat their local competition.
A clear example of just how effective Deck Builder Marketers has been over the last year can be seen in the results generated for Artisan Outdoor Craftsman.
From Jan 2021 – Dec 2021, their website traffic grew by 302% with revenue increasing by 229%! Not only did their number of projects double, but their average project sale price also increased by 143%. These results can be obtained by any deck builder through effective digital marketing – bringing high-value clients that already know, like, and trust you. That's the power of digital marketing!
On a parting note, April states, "My team of marketing experts and I help deck builders become the top deck builder in their area using digital marketing that actually works! Because we only work with deck builders, we know the problems they face and can better align their marketing to not only grow their business but make things easier along the way. While the last year has been incredibly fulfilling, I look forward to helping more deck builders grow their business exponentially in the years to come. We are on a mission to help 100 deck builders double their business in the next 5 years"
For more information about Deck Builder Marketers and their services, contact them at (855) 498-1007 or request a free marketing evaluation & consultation.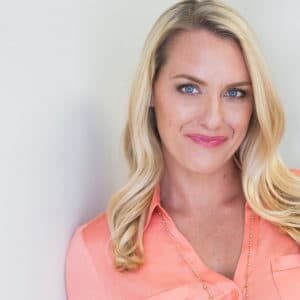 April Edwards
Owner & Lead Marketing Strategist
About the author: