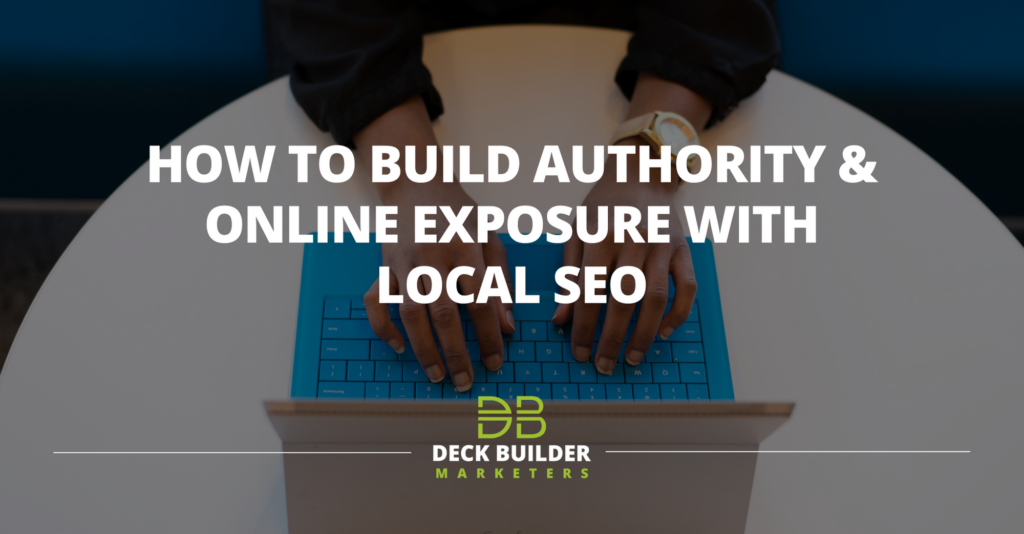 How to Build Authority and Online Exposure with Local SEO
As a deck builder, you know all about how to build a beautiful deck. It starts with a vision and before long the work begins.
First, you create a firm foundation upon which to build out the structure. The same is true with marketing. You need Google to recognize your company, and you need people to find you on the internet. This happens by utilizing local SEO, aka local search engine optimization.
90%: The percentage of consumers who used the internet to find a local business in the last year. (BrightLocal)
What are Local SEO and E-A-T?
Local SEO is a powerful marketing tool for a deck contractor. The premise is simple when Google displays your company at the top of Google Maps and in the sought-after first position of the organic search rankings, people will recognize your company as THE local deck construction expert.
To reach this position, there are three important factors to consider:
Expertise
Authoritativeness
Trustworthiness.
Or, as Google refers to it: E-A-T.
You gotta eat, right? You want to put food on the table for your family. To make that happen through a successful deck-building business, you need to build authority through online exposure. This happens with local SEO, and it starts with a Google My Business (GMB) account.
TIP: E-A-T is something you should reference with all of your marketing.
Why You Want to Dominate the Google Local 3-Pack
By having a GMB listing, you will stand a chance to have your company featured in Google's 3-Pack. This is when people search for "deck builders near me" or similar terms related to your area. Because the search includes the term "near me," Google understands there is a local intent. It will display a map with three local deck-building companies below it, thus the 3-pack.
So, of course, the next question is, "How do I get my company to appear in Google's 3-Pack?" You will be featured there if you have specific words and phrases on your GMB listing that match what people are searching for. If you have built your online presence on the internet with quality content, you are well on your way to staying ahead of the competition.
When trying to get to the top of the 3-pack, three factors come into play immediately: Relevance, distance, and prominence.
Relevance: Refers to the degree to which a local business profile suits what someone is looking for. To help Google better understand your company and fit your profile to related searches, provide full and accurate business details.
Distance: Relates to how far your deck company's headquarters is from the location term used in the search. If the search term lacks location information, Google will establish a distance from what they know about the searcher's location.
Prominence Relates to E-A-T: How well known is your business? Google will figure this out based on what is said about your company online, including:

the number of reviews you have
the number of positive ratings you received
and how high your business ranks in searches
Online Authority is Tied to Local Rankings
What does online authority mean?
Think about when you want to learn new deck-building techniques. Who do you turn to? Which organizations do you trust? What's the underlying factor? Authority, right?
Building online authority is important for local SEO and sales. Google and other search engines love sites with authority because they usually offer the best and most relevant results to their users.
The more authority a site has, the higher its rankings will be in search engines, the more traffic it will receive. Sales is a numbers game. More traffic yields more leads. More leads mean more calls. More calls result in more sales.
According to Moz, a leader in everything SEO, the top local pack and organic ranking factors consider signals from your GMB listing; whether you:
have links coming to your site from other websites
your reviews
how clearly defined is your company's name
address and phone number (NAP) on your website
how strong is your website in terms of SEO
do people check-in when visiting your business
And, are your social media posts being shared?
Think about career trajectory.
You didn't start out as one of your area's best deck builders. No, it took a while. You needed to learn how to use a hammer, a drill, a saw, and other tools. Also, you had to understand math. Not to mention, you had to gain knowledge of wood, composite materials, and so on and so forth.
Your career, and your expertise, slowly built up over time.
The same is true for being known as an authority in deck-building online. Prioritize your efforts for maximum results.
So Where Do I Start with Local SEO?
Prioritize Your Local SEO Steps, Start with GMB
The first thing you want to do is claim your Google My Business listing. It's critical your business is in the conversation with your competitors by having your company's name, address and phone number listed on Google Maps.
Grab Your Social Media Handles
Think about the social media channels where you want to get noticed, like Facebook, Instagram, and LinkedIn. Make sure your handles are the same across all to establish consistency in your brand (and so people remember them) and set up your profiles with accurate information. Check and double-check you have everything correcting, including your NAP.
Optimize Your Website
Optimize your website so that your name, address, and phone number appear on all pages.
Create the content on your site that speaks about the cities you serve. Each city page must have unique content.
Use relevant keywords throughout your website so you are attracting your ideal customer.
Have your web developer or designer check to ensure your site has schema markup, also known as structured data. This is code on your site that signals to search engines the kinds of content on your pages. This helps the search engines understand your business name, address, and phone number; what figures are prices, and which ones refer to your hours. It can also provide rich information about your reviews and how many stars customers give you.
Make sure the user experience is great including how fast the website loads and if it's optimized for mobile. Google will give you less credit for factors like these.
Proactively Encourage Online Reviews
You should also develop a process for getting people to review your business online, like on Google, Facebook, and Yelp. People often overlook the role reviews play in a local SEO strategy. You should also monitor those reviews and respond to them immediately, especially if someone is critical of your work. Always try to resolve any negative issues in a positive manner. It's possible that they will update their review if you resolve the situation. Respond to all negative reviews in a polite, professional manner. Believe it or not, customers will appreciate how you handle these reviews, and your responses can lead to new business (see this Cornell study).
PRO TIP: Better yet, use a system that will help prevent negative reviews in the first place. Ask us how we do this!
Show up in Local Listings and Online Directories
If you have ever searched for an attorney in your town, you might have noticed the top pages tend to be directories of attorneys. As a deck builder, your goal should be to have your company appear in as many local listings and business directories as possible.
While it all begins with Google My Business, don't overlook local sites, like your city's Chamber or Commerce and newspaper. Leverage your relationships with trade associations, any partnerships you have formed, your suppliers, general contractor websites, and any other site you can find..
Are you a member of the North American Deck & Railing Association? It has a member directory, and people can search for deck contractors by name or location. Are you a TrexPro deck builder? Trex also has a feature to search for a builder. HomeAdvisor maintains a directory of its pro deck builders.
PRO TIP: If you want to know which online directories you should appear in, simply search for your competitors and see where they pop up. It's been said Sam Walton built his Walmart stores near other major retailers because people were going there already. Follow that principle online.
Continually Monitor and Clean-up Any Incorrect Info About Your Company
As you seek online business directories, it's rather common to discover these sites might already have some information about your business. Unfortunately, they often are missing critical information, or they list your old address or phone number. Part of your mission is to make sure information about your company is consistent across the web so there's no confusion in Google's eyes.
Remember, the more mentions and links your company receives on the web, the more your prominence and E-A-T rise.
Local SEO takes time and a commitment to getting all the tedious details correct. This means you need to establish something akin to a quality assurance program. You want to make sure you continuously optimize your website and local listings. Make the time to promote your company online regularly. It will pay off 😉
How to Promote Your Deck Building Business Online Regularly:
Keep your GMB listing up to date (be sure it has your holiday hours)
Promoting your company on social media
Have a blog on your website where you regularly publish new articles about your company
Send out press releases when you hire someone new or land a major project (especially if it is a public works kind of job)
Seek to have websites link back to your site.
Get Started Today with Local SEO
Rome wasn't built in a day, and neither will your online authority. If you follow these steps, you will probably be far ahead of your competitors. Why? Because local SEO takes time. But you can speed it up by following these strategies. You have to start somewhere, and you have to start sometime.
The "somewhere" is Google My Business, and the "sometime" is today.
Let us Know if Deck Builder Marketers Can Help You
The last thing you want is for potential customers to Google "deck contractors near me" and not find you on the first page of search results or in the Google 3-Pack. We've given you enough of a head start if you want to do it yourself. Or, if you want us to provide you with a complimentary, Custom Marketing Plan. In two seconds you can book a time to meet with me.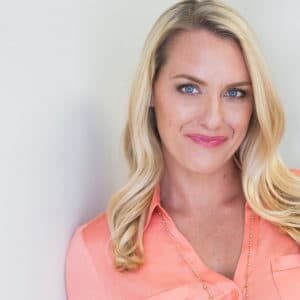 April Edwards
Owner & Lead Marketing Strategist
About the author: