Top 10 Marketing Strategies Deck Builders Need in 2024
Marketing has changed, and that means marketing strategies have changed, too.
When widespread internet adoption took off, it completely changed how business works and how people find deck builders.
Remember when you used to be able to secure a solid amount of business by attending a couple trade shows every year?
Here's the thing, people nowadays make their purchase decisions based on what they encounter online.
The idea of relying on the internet to attract new customers may sound daunting but, in reality, there are more opportunities here than you'll find anywhere else.
If you get the hang of it, this 'digital revolution' can help you promote your deck construction business far beyond any trade show. A constant stream of prospects automatically landing on your contact details all year round is quite the reality if you do your internet marketing right.
"Nailing planks can only take your deck building business so far.
Nowadays, you also need to nail your internet marketing."
Marketing is the kind of thing that you can't wing (like a homeowner trying to build a deck on their own). You need a smart plan that matches your vision and goals if you want to see real results.
So, let's get your phone ringing!
Top 10 Marketing Strategies Deck Builders Need in 2024
Capture business with a High-converting Website
Attract customers with SEO
Appear in local searches with Google My Business
Increase online exposure with Local Listings
Increase social proof & brand trust with Online Reviews
Attract customers ready to move forward with Google Ads
Educate and nurture prospects with Content Marketing (Blogging)
Connect with potential customers on Social Media
Turn prospects into customers with Email Marketing & Automation
Hyper-target potential customers with Social Ads
Marketing Strategy #1: Set the foundation by nailing your deck builder website
It's not just about having a website (gone are the days of "business card sites"). Your website should serve as the foundation and hub of your entire marketing system.
It should not only make a great first impression (jeeze, you only have 3 seconds to do so before users click away to your competition), but it must be built to convert website visitors into actual leads!
Do you know how many leads you're getting from your website today?
Do you know your current website conversion rate?
Are you paying for ads that send people to a website that's broken or doesn't convert?
Your website is the "digital store" of your business. It's the primary place where your audience learns about your amazing deck business and the place you have to stand out.
As one of the primary components of your marketing, you need to get it right. Having a solid foundation when building a deck is important, and it's exactly the same in marketing.
If you don't get it right, every other strategy in this list will be less effective. So there's every reason in the book to make an amazing-looking site that's optimized for conversions.
How do I optimize my deck builder website for conversions?
Increasing your conversion rate means increasing the percentage of website visitors that successfully convert into leads. This makes it possible to improve your results without necessarily increasing your total amount of traffic (basically getting more juice out of the squeeze).
Make a strong value proposition: Make a clear statement of the benefit your deck customers will get after the purchase. What message do you communicate to inspire them to work with you vs. your competition?
Contact info... front and center: Your phone number should be the first thing people see on your website (and it should be clickable too!). Make sure other important info like your address and hours are visible so people know you are local and when you are available for calls.
Always make the next step clear with call-to-actions: Guide your audience through every step of the way. Help them understand how to get started working with you so they feel more inclined to fill out your online form, book a time with you, or give you a ring.
Always remember to tell them what's in it for them - whether that's a free consultation, free deck design, or something else.
The next actionable step should be clear and easily visible on your site, so have a form or some type of call-to-action like "Get Started" or a "Get a Free Consultation" banner/button on every page.
Showcase your online reviews and video testimonials: Hearing what happy customers have to say is very reassuring to prospects (more on reviews later).
Showcase trusted certifications/accreditations & partnerships: Get an instant credibility boost by showing your affiliations as a leader in the industry via Trex, Timbertech, Azek, NADRA, BBB, etc.
Whether you're working with an in-house team or an agency, you should plan your site in detail before making it.
If you don't know where to start, this article will guide you through every step to create an effective website plan.
Marketing Strategy #2: Attract people searching for a local deck builder to YOUR website with Search Engine Optimization (SEO)
When it comes to increasing your visibility online, Google is your best friend.
Having your website show up on Google Search helps more people find out about your amazing deck construction services - resulting in more opportunities to get customers.
Simple exercise:
Does your website show up in the first few results on Google for keywords such as "deck builder near me" or "[your city] deck builder"?
Organic search results.
If the answer is no, you have some SEO to do.
Search Engine Optimization is one of those 'buzz' words marketers can't shut up about.
In simple terms, the point of doing SEO is to convince Google that your website is popular and useful.
This gets you higher rankings in the search results - meaning that your website is positioned higher on searches (where people are more likely to see you!).
This additional visibility helps more people find your deck building biz when typing in certain keywords related to your business.
By having a presence on major search engines like Google, you're essentially taking a percentage of the market share. The higher your ranking and the better your keywords, the larger your piece of the pie.
By the way, the search engine pie is more than enough to fill your plate:
97% of people learn more about a local company online than anywhere else. (SEO Tribunal)
What are the top ranking factors for a deck builder website in 2024?
Optimizing these factors is what SEO is all about.
Keywords are very important because Google looks at the keywords included across your website to understand what it is about.
In other words, to rank for a certain keyword like "deck builder in boulder," that particular keyword needs to be included in the text of your site (in metadata, headings, content, etc).
Otherwise, Google will have no idea what your site is about. You have to know how to "speak Google." If you think about it, SEO is Google's language.
Once you find good keywords and optimize your site for SEO, you'll have a better chance of ranking well, and people will notice you.
Just having a beautiful website isn't enough because you won't get far without winning Google's heart. People must find you in the first place.
Once they do, they should be convinced, and it should be easy for them to convert into leads! (That's when the pretty website steps in.)
Marketing Strategy #3: Optimize your Google My Business (GMB) listing to appear on local searches
One of the first things you should do to rank on local searches is claiming a business listing.
Creating a GMB listing with your business information (business category, phone number, hours of operation, etc.) will get you found by people in your area.
Let me show you why this is something you're interested in.
See that box under the map?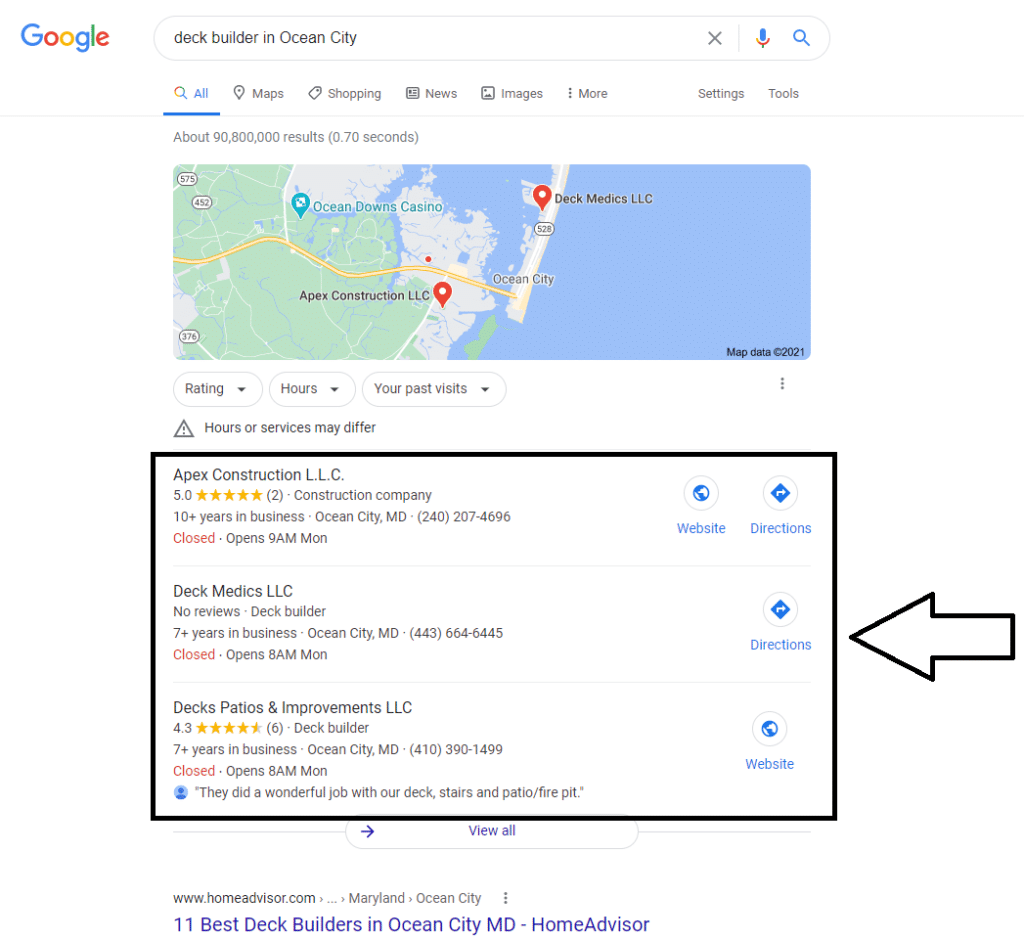 ----
These results are called map listings or "the Google 3-Pack" (here's an example).
Map listings don't show up on all searches, only on those with local keywords. (Location-specific phrases like "deck builders in [your city]," or "deck builders near me.")
So, what does this have to do with Google My Business?
Google picks three businesses with a GMB listing to appear in the map listings. It determines this mainly based on relevance, distance, and prominence.
Showing up in the Google 3-Pack does wonders for your local visibility! Once you appear in these different places across Google, people will find your business information and can immediately call you or visit your website.
Without a GMB listing, Google won't consider you to be in the "spotlight" when people in your local area search for deck builders. Map listings are the spotlight of a search because, visually, they really STAND OUT from the rest of the results.
And if that wasn't enough, GMB also lets people leave reviews about your business - which is a KEY decision factor for many customers.
→ If you haven't already claimed your listing, do it today! ←
TIP: Did you know, if you don't have a website already, getting your Google My Business listing should be your first step.
Make sure you post to your Google My Business listing similar to social media - somewhere around once a week with relevant content on projects, offers or news. This shows you are a serious and active business.
We have some other tricks up our sleeves as well. 😉
Marketing Strategy #4: Increase online visibility (get popular) with local listings
Claiming a listing on business directories helps immensely to get your local business found by online searchers.
For starters, listings make your business visible in more places online other than Google. Every additional listing is another chance for people to find you. There's no way this can hurt! 🙂
But that's not all, buddy! Directories can boost your site's SEO by generating new backlinks from authoritative websites pointing to your site.
A backlink, to put it simply, is a link placed on another website that points to your website. Backlinks are very beneficial for SEO because Google sees backlinks as a sign that your website is popular (because other websites know about you).
When Google thinks you're popular, your website ranks higher on searches, more people are able to find you, and your website traffic increases.
What are the top online local business listings your deck construction business should be in?
Google My Business - This is the most important!
Facebook
AngiesList
BBB
Instagram
LinkedIn
Yelp
Yahoo!
Bing
YellowPages
Etc...
(See the top 50 local citations sites).
Marketing Strategy #5: Reputation marketing (because your reputation is your biggest asset)
Why are online reviews crucial to the success of your deck builder business?
When it comes to building your reputation online, it's easy to believe that it will happen "automatically" if your business does a great job at pleasing its customers.
Yes, you'll obviously need to make your customers happy. If they're jumping in excitement after seeing their new deck, you've taken the first step to manage your reputation.
BUT afterwards, you'll have to proactively get reviews. Most deck builders we talk to do ask customers for a review, but fail at making it easy for them to do so.
Everyone is busy these days. If your customer has to take the initiative to search for your business online and figure out where to leave a review, in most cases, they won't. Even if they would, timing is everything. Most of the time, customers have the intention to leave a review, but simply forget.
People are qualifying businesses based on the information they find online. For a high-value purchase like a deck is, they'll take a look at your reviews online and compare them with your competitors':
"93% of consumers used the internet to find a local business in the last year, with 34% searching every day." (BrightLocal)
Online reviews are KEY to build a good reputation for your deck builder business - particularly the reviews on your Google My Business listing:
What is the best way to get online reviews for your deck business?
The best way to get reviews efficiently is by setting up a system to automatically help you gather them.
Lead customers to a page that asks them about their experience working with you.
If they're not happy with the experience, they should be directed to a page where you are notified so you can resolve the issue (before a bad online review goes up online ).
If they're happy, then redirect them to a page to encourage them to leave a review.
BONUS: Have a system that automates follow ups in case your customers get sidetracked and forget to leave a review. This is key to getting more reviews than your competition.
Can you see how having an automated system can make things so much easier for you to generate a ton more reviews?
When your prospects see that you have more 5 star reviews than other listings, who do you think they're going to call first?
TIP: Install code on your website to automatically import and showcase all of your online reviews to boost your conversions!
Related: How To Respond To Online Reviews & Why It's Important For Your Deck Company
Marketing Strategy #6: Get more qualified traffic and leads with Google Ads (PPC).
What if I told you there's a way to get your business in the top spots on Google for your favorite keyword - INSTANTLY.
Let's be real, there's a catch.
You have to pay to get your website at the top with Google Ads, but nevertheless, there are good reasons to get hyped. (Spoiler: a faucet of great leads.)
In a nutshell, Google Ads uses a PPC (Pay-per-click) advertising model, which means businesses pay a fee when users click on their ads/pages (but only when people click on them).
Let's cut the jargon and explain what this means for you with an image:
See the "ad" text next to the first few results of that search?
Those top results are called paid listings.
Being in those top positions is a sure-fire way to drive more traffic to your website, especially on mobile. Google Ads take up the entire screen when searching on your smartphone for a deck builder (until users scroll down a little bit).
Here's the best part - since Google Ads lets you appear on any keyword, you can laser-target users that are ready to buy. Consider certain services you want to be known for, "Azek Deck Builder" for instance. Want to expand to new cities or counties? Easily do so with Google Ads.
Thanks to Google Ads' targeting abilities, PPC remains an excellent way to generate high-quality leads. That's why the cost is worth every penny.
Also, PPC starts producing returns ($$$) very quickly compared to other strategies, making it ideal if time is of the essence and you need good, quality leads now!
I wrote an entire article about PPC (and SEO), so check it out if you need a pick-me-up.
Marketing Strategy #7: Nurture your deck builder prospects with educational & informative content
In today's digital world, content is the fuel that gets the marketing truck running. Like love, it takes many shapes - blog posts, social posts, videos, etc - but I'm mainly referring to blog posts in this section.
I'm sure you've heard the phrase "Content is King."
Expertly written content crafted for customers and search engines can drive extra traffic to your website by ranking higher in searches, but this benefit barely scratches the surface.
Content gives you a way to connect with your audience and build trust.
It's very attractive for consumers because it provides value, engagement, helps them solve their problems, and positions you as the expert deck builder in your area.
If you've never heard of inbound marketing, it's a very effective marketing methodology that you should follow to the T in order to create measurable results from all the work you put into it.
The main lesson to take home is that good content attracts consumers by providing value in exchange. (The opposite of those annoying TV ads.)
By helping your audience with valuable information, they'll want to stick along and will keep coming to consume YOUR resources. This nurtures them, builds trust, and organically opens them up to do business with you.
Step into their shoes - if your content is valuable and your brand is serious about helping them, it also showcases your expertise and makes it clear that you know what you're doing. When they are ready, they'll have the confidence that you will be the best choice to build their dream deck.
Having content that educates your prospects can eliminate a ton of time on sales calls. These customers will be much more ready to sign with YOU after reading YOUR content.
Rather than "selling", you are "helping," which is much more comfortable for your deck customers.
As a strategy that helps you drive more traffic and nurtures your audience, content marketing is a no-brainer.
How to publish content for your Deck Construction business that brings in customers:
Content Tip 1 - Create your Buyer Personas
Stepping into your customers' shoes is one of the keys to making good content (and marketing as a whole).
To create the amazing experience your customers look for, you have to understand who they are, how they think, their interests, pain points, etc.
We like to do that by creating buyer personas.
What are buyer personas?
Fictional representations of the ideal type of customers you ideally want to work with.
Your personas should describe relevant characteristics such as age, location, goals, pain points, etc. The whole point is to create a clear picture of your company's ideal customers so your messaging speaks directly to them, their problems, and how you solve them better than anyone.
Do you want to attract customers who only want deck repairs? Or, do you want to attract customers looking to spend $35k on a custom deck? See the difference?
You can have multiple personas if you have different subtypes of customers with very different needs. For example, a persona representing new development homeowners, empty nesters, people that want an entire outdoor living experience, etc.
Although it might seem a bit silly, personas are common practice among businesses of all sizes and industries. It helps you connect with your audience based on their needs rather than how amazing you are.
It may not seem important, but this makes a larger difference than you'd imagine.
Marketing without understanding your customer is like trying to build a deck without any plans.
You may have an idea of your customer, but does everyone on your team? Take a few moments to get clear on who they are. By understanding who they are, how old they are, what they purchase, and what motivates them, you can create better messaging that speaks to only them. It will be as if you truly understand them.
Content Tip 2 - Distribute Content Across Multiple Channels
To pump up the traffic that comes to your website, hitting publish is just the start. It's not a "build it and they will come" type of a world.
Where Content is King, Distribution is Queen!
The other part is making your content visible in the places where your audience spends their time.
Social media, Houzz, YouTube, email, and association websites are just a few examples of digital distribution channels.
Sharing your content across multiple distribution channels will ensure that your content gets seen where people are spending their time.
Your content may be great, but if people aren't actually seeing it, it's just a great waste of time. Getting your content out there is the most important step!
A large part of your audience is not going to visit your deck building blog in a repetitive manner throughout the week. It'd be nice, but it's not how it works.
People are more likely to be on social media or their email inbox when online, so your article needs to show up there. Otherwise, they won't be aware and might never read your content again.
They could be interested in doing so, but they may need a little reminder. 🙂
Here's an article I made about content distribution.
Marketing Strategy #8: Connect with your audience where they spend most of their time (on Social Media)
People spend an average of 2 hours 45 minutes on social media every day (making it a phenomenal channel to grow your audience and to build relationships).
But you know this already. You've probably heard about the effectiveness of social media hundreds, if not gazillions of times.
Do you feel like your efforts get as much traction as a truck stuck in the mud? Does it feel like a "time sucker for what" sometimes?
Don't worry, we're here to help :). Mark every point in this checklist to ensure that this is a lucrative channel to support your business growth.
1. Set goals and measure progress
Ever heard the saying, "what gets measured, gets managed"?
Tracking likes, followers, shares, and other metrics gives you an understanding of what you're doing right and wrong.
Are you posting regularly but not getting many likes or eyes on your content in general? Knowing these metrics can help you pivot your strategy to ensure that you're not wasting your time posting things that no one is interested in.
2. Analyze the competition
Successful competitors can be a pain at times, but their social media accounts are a great example to learn from. What are they doing that's getting them results? How do your efforts compare, and is there anything you're missing? How big is their reach? How frequently are they posting? What content is getting the most likes and shares?
3. Get a content calendar
Scheduling your next posts ahead of time prevents headaches and ensures they happen. You can make this even easier with a social media management tool like Buffer or Hootsuite.
A rule of thumb to follow when making posts is to ask yourself - what would my typical customer think and feel when they see this post?
Is it educational? Entertaining?
Does it inspire them to get their deck project started?
Does it set your business apart by showcasing your values and differentiators in the market?
The trick to getting this right is to really step into your customers' shoes and build a great experience for them. (*cough*buyer personas*cough*)
4. Be consistent
You should aim for at least 5 posts a week. Making posts every day can be difficult in the beginning, but it becomes easier once you establish the habit. Using a scheduling tool and planning in advance certainly helps with this. Monitoring your results will give you the motivation to keep chuggin forward.
PRO TIP: Most businesses do not get leads directly from social media. Social media serves a different purpose, to establish trust and nurture prospects until they are ready to work with you. Bottom line, stick with it and it will serve your business in the long run.
Marketing Strategy #9: Continue the conversation with prospects that have already raised their hand with Email Marketing & Automation
There's a common misconception that email marketing isn't as effective anymore (perhaps because it has been around for decades), but the stats don't lie:
"Two thirds of customers have made a purchase as a direct result of an email marketing message. Plus, email is 40X more effective than Facebook and Twitter combined." (Hubspot)
If you believe in math, you believe in email marketing.
Does email marketing still work in 2024?
The point of email marketing is to generate and nurture leads, distribute your content, and promote your offers.
To put it in another way, email is pure marketing bliss.
Marketers love email because it lets you access your audience in a channel that most people use, is very cost-effective, and practically gives you full control of the content. You own this channel unlike Google and Facebook where you can't directly control who sees your content and when.
Email marketing truly excels compared to other strategies when it comes to reaching back to leads with personalized and targeted content. You can choose the who, when, and how of every message with ease.
Tracking and measuring performance is as easy as it gets with the abundant availability of software to optimize your emails, and you can even automate the whole process.
For example, you can set up an automated welcome series of emails upon signing up to your list. Another good one is to send a sequence of emails over a long period of time for people who aren't quite ready and need more information before they are 100% ready.
The greatest thing about automation is that you set it, forget it, and wait for the leads to arrive to you.
The most challenging aspect of email marketing is that visitors have to voluntarily sign up for your email list by providing their contact information. But this means that your subscribers are very likely to be interested in hearing your message (IF you take the right approach).
What's the right way to use email marketing?
You may have the presumption that email marketing is like traditional "push" tactics that throw promotions straight to your face.
Although some brands take this approach, users can unsubscribe to your email list with a couple of clicks if they're not interested in receiving more emails.
Today's customers are tired of salesly, over promotional tactics, and, to get to the point, this strategy is far less viable nowadays. (Plus, if you hate these tactics yourself, you surely don't want to be that annoying person sending these types of emails.)
Instead, your email marketing efforts should revolve around providing value to your readers. How? Define your buyer personas, your brand's buying process, and follow the same principles we discussed in the content marketing section.
How do you grow your email list?
A very essential tip to get people to subscribe to your email list is to provide a free resource in exchange. For example - an ebook, a guide, or another lead generation offer.
When people subscribe to your email list, they'll automatically receive the resource via email. (You'll need a software tool like MailChimp or ActiveCampaign to automate your emails.)
If it's valuable, they will be interested in hearing more from you later on. For
example, "The Ultimate Guide to Building your Deck" or something along those lines.
To summarize, create an EPIC free resource so that leads pile up to get it! Your last secret weapon is to send a carefully aimed series of consecutive emails that are just as awesome!
Marketing Strategy #10: Attract, Warm Up & Retarget Your Visitors with Social Media Ads
Social media ads are a hyper-direct way to reach an audience quickly. You can target new people that don't know about your brand or retarget your visitors.
All the major social networks offer ads, but you should focus on the platforms that your audience uses most. We particularly love Instagram and Facebook ads because they're popular platforms your audience likely uses, and also because you can use irresistible deck images (sweeet!).
Let's take a look at the different aspects of using social media ads:
Introduce yourself - Targeting for awareness:
The most obvious (and common) goal for social media ads is to raise awareness about your brand. With this, I mean targeting new people that have never ever heard of you.
Everyone in your audience is slightly different (interests, preferences, demographic), so it makes sense to target your ads based on these characteristics. For example, Facebook ads let you target based on age, gender, income, location, consumer behavior, and much more.
It may seem daunting to start paying for ads if you're used to free, organic social posts, but ads let you expand your reach and find potential customers in a fraction of the time.
(Ads can start producing results if you need your marketing to be profitable quickly!)
Get them to know you - Warming up your target
Most people won't click through your ads the first time they see them, so the right approach is to set up a series of ads to warm them up.
Just like in dating, after introducing yourself (targeting for awareness), people need to get to know you. It's going to take multiple ads for people to start getting familiarized with your brand.
You can set up your ads to appear in a specific, pre-planned order to achieve your goal (getting them to visit your site). It's also crucial to test many different ads and track their performance to see what works best.
Ask on a date - Retargeting
One of your visitors read countless articles, went to your contact page, and was ready to convert - but it didn't.
Maybe their phone battery died, or they had an urgent matter and forgot to come back again. Perhaps the visitor wasn't ready and needed time to think and have a family discussion.
The point of ads isn't just to drive new visitors - you can also retarget visitors that left your site. This can get them to come back to close the deal.
Particularly for deck builders, closing customers the first time they come to your website isn't easy because it's a high-value purchase and a big decision. You need multiple touchpoints (points of interaction) with each person to have a decent chance of converting.
On average, it can take around 8 touchpoints to convert someone. (The actual number is highly variable. It's just to give you an idea.)
Retargeting with social media ads is such an easy way to stay in front of people that have already expressed interest by going to your website in the first place.
If you're using Facebook ads, the first step is to install a Facebook pixel (a piece of code that you place on your website) to create your retargeting audience.
Then, we use a three-step funnel strategy in our Facebook ads:
Step 1 - Awareness: Introduce yourself >
Step 2 - Traffic: Get them to your website by offering them a freebie >
Step 3 - Convert: Now that they know you, ask them if they'd like a Free Consultation to get started
We like to compare marketing to dating, check out this article I wrote, "The Matchmaker's Playbook," to learn how to go from speed dating to marriage.
PRO TIP: Make sure you have the Facebook pixel installed on your website so you can start building your retargeting audience. With that said, actually, make sure you retarget to them very soon after they visit your website.
Time to Promote and Market Your Deck Building Company More Effectively
These are the most important strategies you should be doing to promote your deck building business. Follow these guidelines to stay ahead of your competition.
Just remember that practice makes perfect and consistency is key.
Have a strategy and a well-thought-out plan for how your marketing will support your business vision and goals. With consistency and experience, your efforts will pay off.
Make sure that you have a nice mix of marketing, that you're reaching people where they are spending their time, and that you are speaking to them in a way that sets you apart.
More important than anything else is to get going! "A farmer plants his seeds in the spring to reap a bountiful harvest in the fall." You have to plan, plant the seed, and nurture it.
Running a deck-building business isn't easy, and trying to stay up to date with all the latest in internet marketing can be overwhelming and can distract you from providing a world-class experience for your customers.
Hiring a marketing agency that understands deck builders can give you more time back and help your business reach its year-over-year revenue goals.
Deck Builder Marketers has an entire team of experts that nerd out on marketing so you don't have to (digital strategists, project managers, SEO, PPC, web design, copywriters, social media, email, etc...). We create a tailored plan just for your business and measure the results for the best ROI using our Marketing Jumpstart Program.
We'll take care of implementing a strategy for you so you can focus on providing a world-class experience and the most beautiful decks for your customers (not to mention spend more time with your family).
Ready to move your business forward? Get started with a complimentary, Custom Marketing Plan today!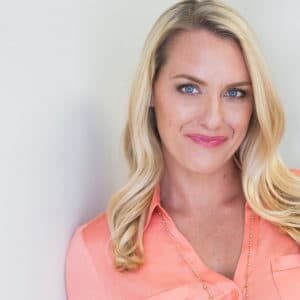 April Edwards
Owner & Lead Marketing Strategist
About the author: