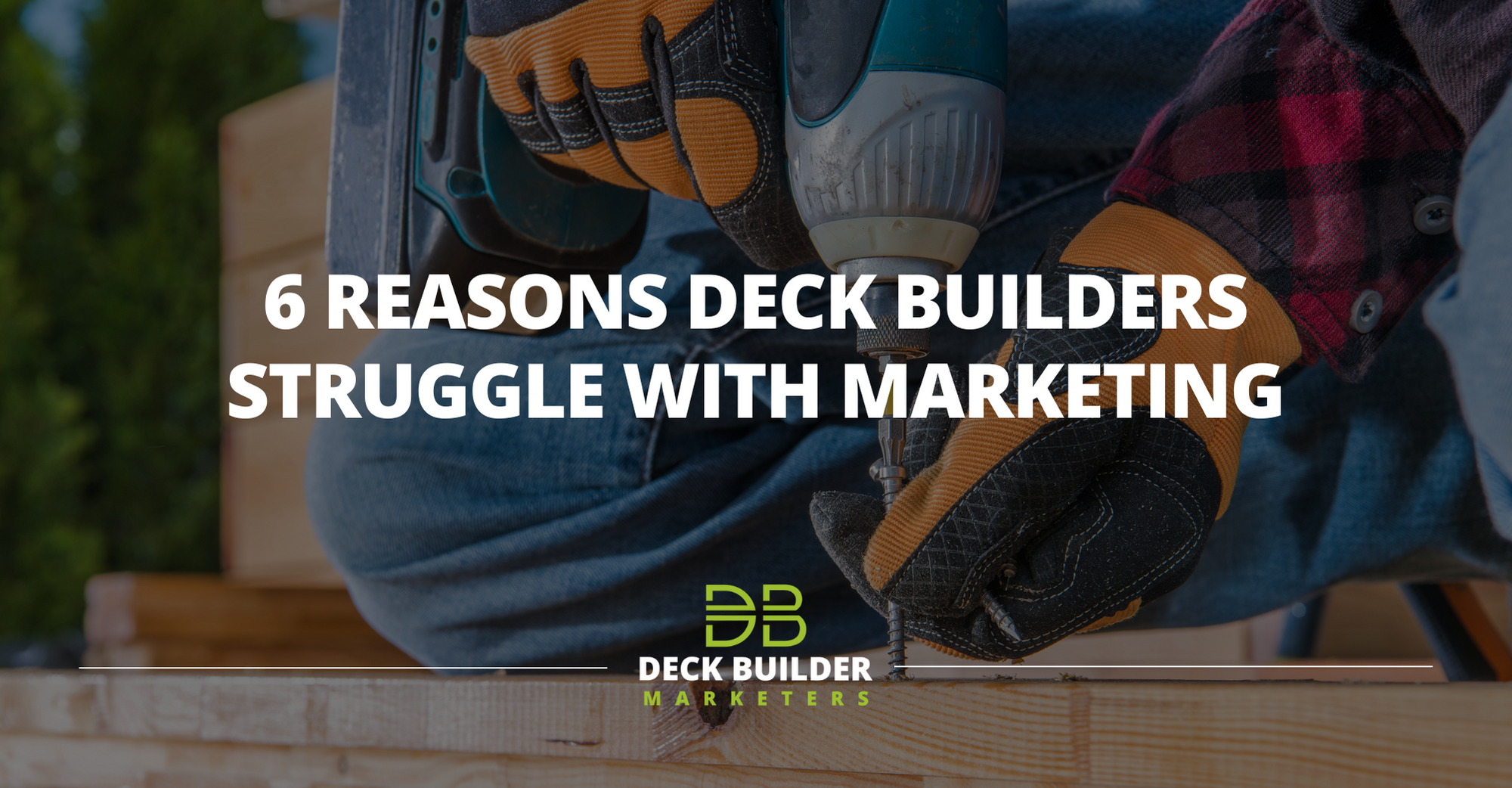 6 Reasons Deck Builders Struggle With Marketing
Does this sound familiar: You love working with your hands. Somewhere along the way, you discovered you were pretty good at building things. You had the opportunity to learn the trade under someone else, but you reached a point where you wanted to go out on your own. So, you started a deck-building business.
Your passion is to build decks and outdoor living spaces, and you have discovered it's difficult designing and building decks while trying to attract new business. That's understandable. Business owners are OK hiring an accounting partner to help with the books. Shouldn't it work the same for a marketing partner? If you are trying to do this on your own, see if any of these marketing struggles apply to you:
We're too busy and can't handle any more work
I tried it and it doesn't work
It's a trust thing
It's too expensive
We get all of our business from referrals
We're just unsure
These might be valid reasons that other companies decided now was not the right time to work with Deck Builder Marketers, or they might be excuses to avoid or delay making a definitive decision to invest in marketing. Let's explore these objections.
1. We're too busy and can't handle any more work
Sometimes the timing is not right to work with a professional marketing team for a number of reasons like the company is entering into its busy season. Sure, you might prefer to wait until things slow down to really focus on a potential marketing plan.
Marketing needs to be an important part of your business plan. We don't need to tell you that companies that fail to plan, plan to fail.
When companies fail, it hardly ever happens overnight, unless some kind of scandal or unethical business practice comes to light. It happens slowly over a period of time until one day, owners start scratching their heads wondering what happened.
When you work with a marketing team or agency, you get to keep the main thing the main thing, while the marketing team focuses on implementing and refining your marketing plan.
As for timing, the North American Deck and Railing Association lists four reasons why this is a good year to market your decking company:
To help prepare for lean years
To protect against competition
To build business relationships
To recruit talented employees
And what about the fact that everyone is more online now than over? In-person trade show events are slowly coming back, but they are not like they were. So, when you work with a marketing partner they can help bring new business to you when you can't go to new business.
2. I tried it, and it doesn't work
Some business owners have been pitched with marketing ideas that sounded good, only to discover the results were not as expected. When one tactic didn't work, they tried another that returned the same miserable results.
This is like the old saying of throwing spaghetti on the wall to see what sticks.
Marketing cannot be a haphazard endeavor. It needs to have a clear vision for every step of the customer journey and offer a comprehensive list of tactics and strategies.
If you tried marketing and it didn't work, do yourself a favor and check out a digital marketing agency with a full complement of experts in email marketing, search engine optimization, Google ads, Facebook ads, social media marketing, local SEO, Google My Business, and generating reviews.
3. It's a trust thing
The internet is a wonderful thing, but sometimes you get so many conflicting ideas that it is tough to decide. So, who do you trust? Well, why not your nephew who took a marketing class or two at school.
Digital marketing changes all the time, and it requires a dedication to staying on top of algorithm changes, privacy changes, and other consumer protection measures (especially with email marketing). So, if you choose to go with your nephew, make sure he understands all this.
When you work with an agency, you can get an experienced team for the price of a single employee. Also, you don't have to worry about anyone calling in sick, going on vacation, or wanting health insurance and other benefits. It is much cheaper to hire an agency with less risk than hiring an employee or someone right out of school.
4. It's too expensive
There are times when owners of very small deck-building businesses reach out to a marketing agency, and they just don't have a sufficient number of jobs to support an investment in a marketing plan. This is OK. We all have to start somewhere.
These deck contractors can benefit from our free marketing audit and strategy session. We can give them some guidance to attract more leads and turn those leads into customers. Then, when revenue scales, they can bring us in to focus on marketing and advertising so they can do what they love: Create beautiful decks that enhance not only homes, but families' lives as they get to enjoy their outdoor living environment in a whole new way.
There are also times when owners do not want to make the necessary investment in marketing, or they truly believe the price is too high. The bottom line is marketing is not easy, but for it to be successful, it requires consistent investment.
Marketing should not be viewed as an expense, rather an investment. If done right, you should be putting money in the machine and getting more out the other end — something we call return on investment.
Deck Builder Marketers brings a lot of expertise to the table. We have experts in marketing, advertising, search, branding, graphic design, social media, and project management who give their all every day to help deck contractors succeed.
5. We have so many referrals right now
This is a good problem to have, right? But how long will it last? Sales is a numbers game. You need to jump on so many calls each week to reach your sales goals. What do you do when those leads start drying up?
Remember, marketing must be consistent. It's an ongoing process that should be refined constantly to give you the best chance of reaching your sales goals.
6. We're just unsure
It's not uncommon for marketers to hear this from a business owner: "I will need to get back with you." This can come about for a number of reasons, including uncertainty or lack of trust. For whatever reason, they just don't feel comfortable making a decision right now. They're unsure. Is it worth the investment? Is it worth their time?
It's important for a business owner to trust the marketing team. In some ways hiring a marketing partner is like hiring an employee, you want to be confident in their abilities … and you want to feel good about the decision.
Your partner should be able to showcase studies, be active in your industry, and provide educational and resourceful information to help you make an informed decision about your marketing investment. There are no silver bullets in marketing. It's a long-term investment. Make sure your potential partner can speak to this.
Next steps to reduce any struggle with marketing
At Deck Builder Marketers, we understand you got into business to build decks and beautiful outdoor living environments. We also understand the importance of a consistent marketing plan.
If you struggle with marketing, then schedule a free strategy session with us. If you decide it's not the right time to work with us, at least you will have a better understanding of what you can do to improve your marketing efforts. The consultation is free and no strings attached.
Schedule a complimentary, Custom Marketing Plan.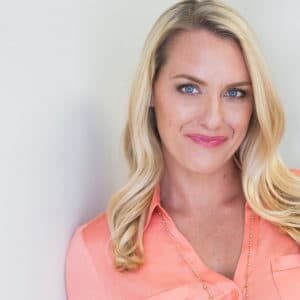 April Edwards
Owner & Lead Marketing Strategist
About the author: